Antworten (Deutsch)
Versendest Du sofort?
Nein. Ich habe keine Lagerware. Jeder bestellte Artikel wird NACH der Bestellung mit großer Sorgfalt von Hand gefertigt. Das dauert in der Regel ein paar Wochen - je nach Arbeitsaufkommen. Oben auf der Website könnt Ihr sehen, wie lange es (geschätzt) vom Moment der Bestellung bis zum Versand dauern wird. Als Ein-Mann-Unternehmen ist es manchmal schwierig, die Vielzahl an Aufträgen zu bewältigen. Daher bitte ich hier um Verständnis. Wenn Geduld nicht so ganz Dein dominierender Charakterzug ist, check doch ab und an mal die Next Day Shippers. 
Passt mein Messer in den ClipSlip?
Höchstwahrscheinlich ja. Es gibt fünf Größen:​
XS - für kleine Messer um 8,5 Zentimeter (geschlossen)
S - für Messer um 10 Zentimeter 
M - für Messer um 11 Zentimeter
L - für Messer um 12 Zentimeter
XL - für Messer um 13 Zentimeter
Ihr könnt das selbst überprüfen: Ladet The Size Check pdf herunter und druckt die Datei aus.
Stellt dabei sicher, dass der Drucker so eingestellt ist, dass er das Dokument im Querformat druckt, skaliert auf 99%. Nach dem Drucken überprüft bitte, ob die 2-cm-Markierung tatsächlich 2 Zentimeter lang ist! Wenn nicht, passt die Skalierung an.

Euer Messer sollte in den weißen Raum passen. Denkt auch daran, dass das Messer weniger als 1,5 Zentimeter dick sein sollte, um eine gute Passform zu gewährleisten. Wenn Ihr ein dickeres Messer habt, dürfte der BigBoy eine bessere Wahl sein.
Ist der Clip von The ClipSlip innen abgedeckt?
Ja sicher! Es ist vollständig mit naturellem, vegetabil gegerbten Leder gefüttert. Die Maremma-Variante sogar auf beiden Seiten.
Was ist der Unterschied zwischen all den Ledern?
Die Antwort auf diese Frage könnte einen Roman füllen! Aber für den Anfang:

- Buttero: Der neue Standard in meinem Angebot. Eines der besten Leder auf dem Markt, bekannt für seine wunderschöne Farbe und Oberfläche. Weich und glatt auf der Oberfläche, trotzdem fest im Stand. Benötigt mehr Zeit zum "Eintragen" als beispielsweise Badalassi Wax, bleibt dafür aber formstabiler. Hergestellt in Italien.


- Badalassi Wax: Eine Augenweide! Dieses italienische Leder (auch Rind) hat ein sehr cooles, zerknittertes Finish und einen tollen Pull-up-Effekt. Dadurch wird das Leder rund um das eingelegte Objekt heller. Passt sich schneller den Objekten an, die darin getragen werden und patiniert relativ schnell.
- Maremma: Das erste Premium-Leder, das ich in mein Sortiment aufgenommen habe. Es wird in Italien aus Rindsleder höchster Qualität hergestellt. Es kommt sehr glänzend, da es glasiert ist - und fühlt sich super glatt an und hat einen schönen leichten Pull-up-Effekt.
- Freedom: Ist optisch dem Badalassi Wax ähnlich, aber nicht so weich. Es ist quasi ein Zwischending aus Buttero und Badalassi, mit einem herrlich dramatischen Pull-up-Effekt. Ebenfalls Rindsleder, das sich auf der Oberfläche fast samtig anfühlt. Wird zunächst schnell Kratzer ernten, aber auf Dauer sehr schön glänzend patinieren.
- Grid: ein recht dünnes, weiches Leder mit einer der interessantesten Oberflächen. Die Oberfläche ist so geprägt, dass es den Anschein macht, als wäre sie kreuz und quer eingeritzt. Tolle Farben, tolles Feeling.


- Shell Cordovan: Das ist Pferdeleder! Ein ganz besonderes Stück des unteren Rückens. Ein Stück ist gerade so groß wie ein Stuhlsitz (aber so teuer wie ein Rindsleder in der Größe eines Esstisches). Und es ist von Hand gefärbt und glasiert! Es hat eine phänomenale Textur und fühlt sich an wie nichts anderes. Das beste Leder der Welt. Wird dich wahrscheinlich überdauern. Ich verwende Shell Cordovan aus der Toskana.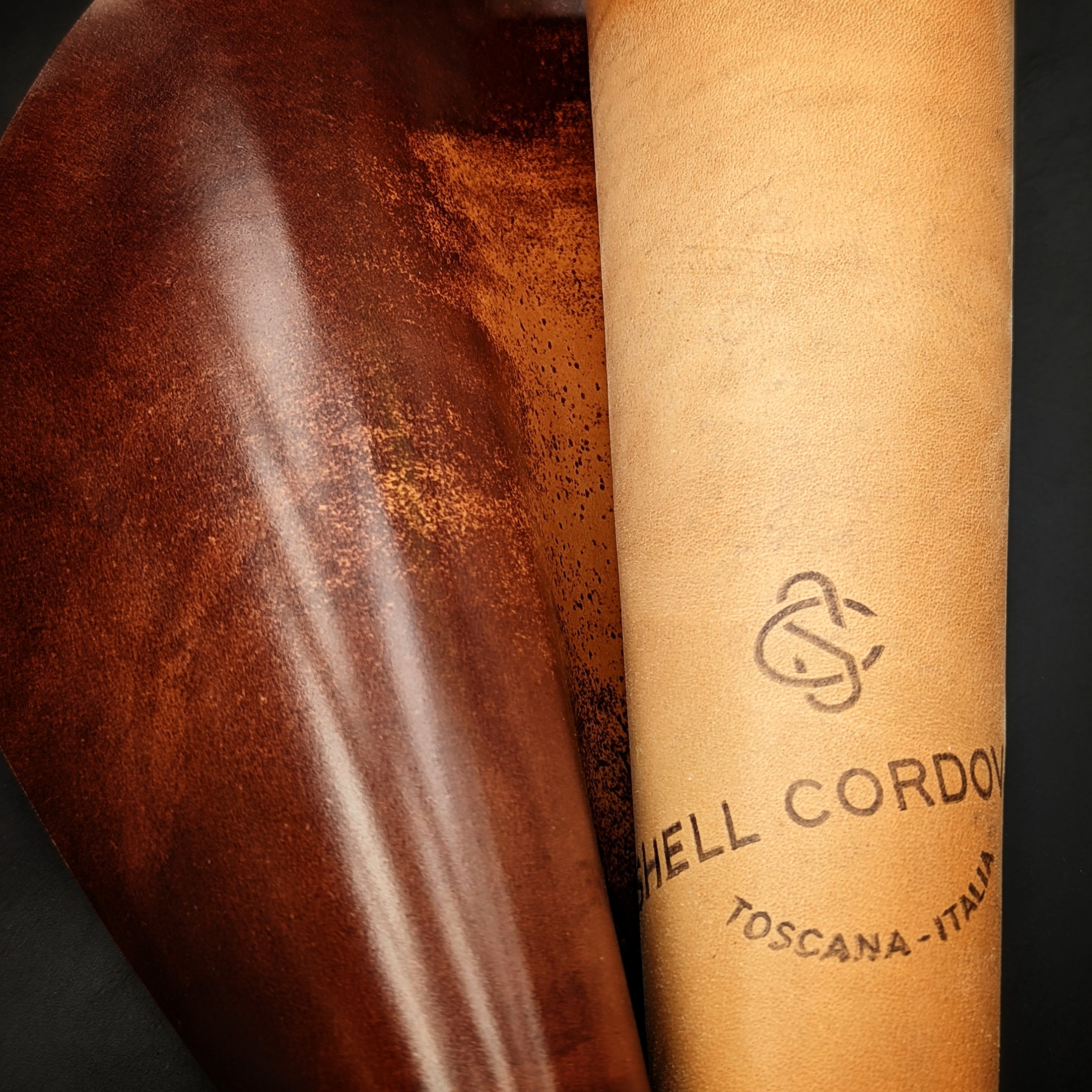 Warum ist Handnaht teurer?
Liegt ja eigentlich auf der Hand: Weil es viel länger dauert als maschinelles Nähen. Nehmen wir als Beispiel einen ClipSlip Größe S: Mit der Maschine ist das Nähen in weniger als einer Minute erledigt. Von Hand brauche ich etwa 15 Minuten für die Naht. Der Unterschied ist bei der SlimSheath oder beim Wingman Wallet noch krasser: Es dauert zwei Minuten mit der Maschine – und mehr als dreißig Minuten mit der Hand.
Ist Handnaht haltbarer?
Nein, es ist eher eine Frage der Optik. Ich habe versucht, eine maschinelle Naht mit zwei Zangen zu zerreißen. Ich habe es nicht geschafft. Allerdings sehen Handnähte sehr viel sauberer und hübscher aus.