Answers (English)
Do you ship immediately? 
No. I have no stock items. Every item ordered is made by hand with great care AFTER the order is placed. This usually takes a few weeks - depending on the workload. At the top of the website you can see how long it will take (estimated) from the moment you place your order until it is shipped. As a one-man company, it is sometimes difficult to cope with the large number of orders. So I ask for your understanding here. If patience is not your second name, you might want to check the Next Day Shippers. 
Will my knife fit into The ClipSlip?
Most likely yes. There's five sizes of ClipSlips:​
XS - for small knives around 3.3 inches closed
S - for knives around 3.9 inches closed
M - for knives around 4.3 inches closed
L - for knives around 4.7 inches closed
XL - for knives around 5.1 inches closed
You can check for yourself: download and print The Size Check pdf. 
Make sure the printer is set to print the document in landscape mode scaled to 99% size. And after printing check, if the 1-inch-mark ist indeed 1 inch long! If not, adjust the scaling. 
Your knife should fit inside the white space. Also keep in mind, that your knife should be under  0.6 inches or 1.5 centimeters thick to ensure a good fit. If you have a thicker knife, The ClipSlip BigBoy might be your choice.
Is the clip of The ClipSlip covered on the inside?
Yeah, sure! It is lined entirely with natural veg tan leather. The Maremma variant even on both sides.
What's the difference between all the leathers?
Well, the answer to that question could fill a novel! But for starters: 
 - Buttero: The new Standard in my lineup. One of the best leathers out there, a well known for absolute gorgeous color and surface. Soft to the touch, yet rigid, but still pliable. Made in Italy.
- Badalassi Wax: A feast for the eyes! This italian leather (also cow) has a very cool, wrinkled finish and an awesome pull up effect. Which means, the leather gets lighter around the object that is inserted.
- Freedom: Looks similar to Badalassi Wax, but not as soft. It's sort of a cross between Buttero and Badalassi, with a delightfully dramatic pull-up effect. Same cowhide that quickly feels velvety on the surface. Will quickly scratch up at first, but will patinate very nicely over time.
- Grid: a fairly thin, soft leather with one of the most interesting surfaces. The surface is embossed in such a way that it appears to have been scratched criss-cross. Great colors, great feeling.
- Maremma: The first premium leather I introduced to my lineup. It's made in Italy from cowhides of the highest quality. It comes very shiny, since it's glazed - and is super smooth to the touch and has a very slight pull-up-effect to it.
- Shell Cordovan: This is horsehide. A very special piece of the lower back. One piece is just about the size of a chair seat (but is as expensive as a cowhide the size of a dining table). And it's dyed and glazed by hand! It has a phenomenal texture and feels like nothing else. The best leather on the planet. Will outlast you. Probably. I use Shell Cordovan from Tuscany and from the famous US-Tannery Horween.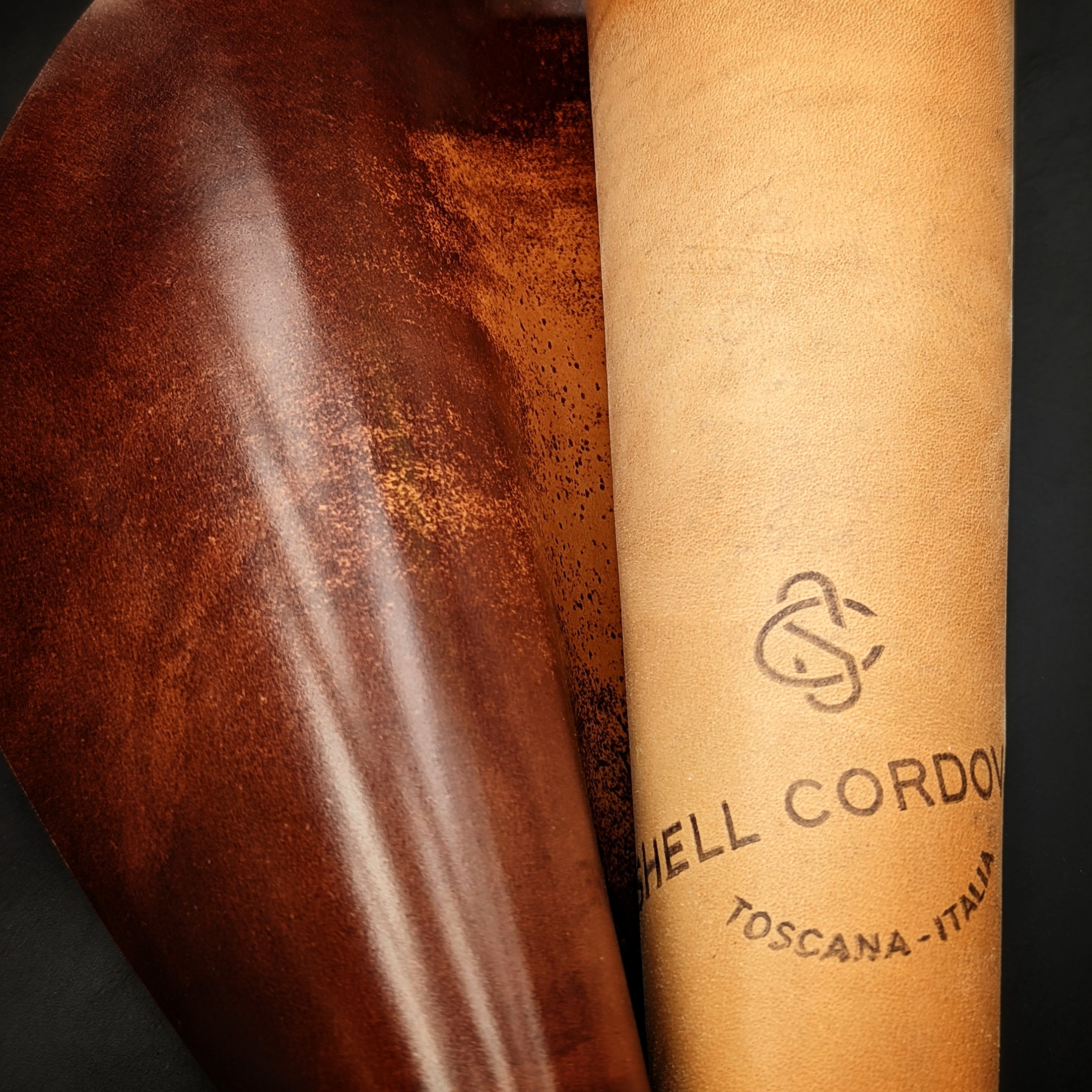 Why is hand stitching more expensive?
Because it takes much longer than machine stitching. If we take a ClipSlip size S as an example: With the machine, the stitching is done in less than a minute. By hand it takes me around 15 minutes all in all. The difference with The SlimSheath or The Wingman Wallet is even more blatant: it takes two Minutes with the machine - and more that thirty minutes by hand.
Is hand stitching more durable?
No, it's more a matter of optics. I have tried to break a machine made stitching line with two pliers. I failed. But the hand stitching looks way cleaner.